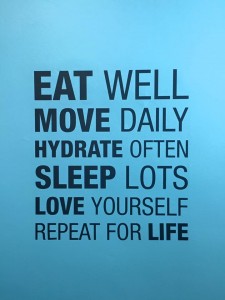 I woke up this morning with a feeling of dread and excitement. There was so much I wanted to accomplish today. I wanted to create non stop today and sort this whirlwind of thoughts and ideas into a lesser chaos, but a production line of actions which would drive me closer to my goals.
My happy place is outside under the sky on the bike . A friend from the gym joined me for a while and to feel the wind in my face while speeding downhill and my legs groaning when I climbed up the hill always sorts out my brain. I can literally feel your feel good hormones being raised with your heart rate in tandem.Yet I know tomorrow me and a newborn giraffe have the same gait.
But a good Pilates session will help creating the balance again
What is your feel good place ? What makes you recharge your battery, get your brain ticking and wanting to jump into action again?
I could have sat at my desk and stewed over my inability to organize my thoughts and eventually would have ended up frustrated and in front of the fridge. And I guarantee you my choices would have not been the wisest.
Emotional eating is a bugger, like a little voice in your head sabotaging you and not stopping unless you can rationalize this little voice away. Now this doesn't happen over night, this is a habit you have to reshape and work on and get some soul searching done why food is your Comfi Blanket and you will do almost anything for it.
Why does food mean safety for you?
Why does not loosing your desired weight makes you unhappy yet you are constantly self sabotaging?
Why are you going to exercise classes while you secretly binge eat as well?
Why does, despite theoretically knowing everything what you should do, raising yourself up to new greater heights and desired better versions of yourself feel so scary that you give up over and over again?
Do any of these points trigger you?
Do you know what your hugely desired non negotiable goal is ? Where do you see yourself in a years time?
No idea?
Start dreaming!
You deserve to be everything you desire to be!
Sometimes we just need a bit of help!
Because a dream without a plan will always stay a dream.
I have a few surprises in store for you over the next few weeks leading up to Mother's Day.
The #dailyexercise will continue, check it out on my FB site

We starting a 7 day private challenge the Monday after Mother's Day. Absolutely free, leave your emails in the comments and you will receive the invite !  7 days 15 min pure butt and abs !!! Right that should get us started! Details to follow, watch my FB PAGE for details.

5 Th March free 45 min in the park ! Watch details on FB or email me !
More is in the pipeline but 1 step at a time!
Always with love, Christiane
If you  need me for anything here are my contacts and Links
My website and blog
My Facebook :
Pilates & fitness
Health &Wellness Life Coaching
My Instagram
energised_through_pilates
Email:
YouTube