What are we focusing on at the moment?
Most peoples eating habits have gone pearshaped and with that, the worry about their physique starts to kick in.
Is that the most important thing to worry about at the moment?
I would think functional performance is the better way to look at.
We all have in various sizes anxiety stages to get through at the moment.
We all react differently to trauma.
And no, trauma is not only ending up in the ER with a headwound but
experiencing existential fear and loss of income will result in mental trauma.
Worrying about family members far away and being cooped up in a small space with too many people is trauma,
it is challenging all your patience and your stress hormones are
going wild.
Not knowing what happens in the future is traumatic,
this is a very difficult time to plan for as it never happened before.
Now we're supposed to figure it all out make it work and appear as the superhuman from the outside and obviously with a stunning figure.
9,000,000 home workouts have hit the Internet most of them are still predominantly appealing to your desire to have the physique of a supermodel…..since you obviously have the time for it now ( where is the eye-rolling emoticon when one needs it)
"If you do that then you look like that in 30 days "
who the f*** gives her s*** about what I look like in 30 days if I don't have the money to pay the rent you asked,
My sentiments exactly….
my answer to that is you have to keep your sanity and keep your mind relaxed.
You can't tell anybody to try and relax hard that is an oxymoron.
I can see your shoulders drew up to your ears and the tension in your neck thriving….not good.
You can only figure out ways too quiet your brain for a while, that while will give you a chance to recharge your mental battery.
Your brain aka mind is the controlling part of your body.
If your brain can't cope it goes into fight & flight mode.
As I said many times before your physical being is not working optimal once this stage is reached.
That's why you should cut yourself some slack, try and eat healthy but do not beat yourself up if the occasional day isn't working out in the way your nutrition plan suggest it.
Your body needs a buffer from time to time and whatever does it for you to cope with homeschooling, financial worries, a nagging husband or wife, stressful work situations or a challenging teenager….
you need to give it to your body
…..now wait!
I hear you already…. 3 bottles of red wine will do it!
No!!! not quite! You still need all your senses to cope, remember we spoke about healthy functionality.
So maybe loosing 10 kg might not be achievable for you at the moment but maintaining your current weight and stay healthy is achievable.
Exercise is a big part of it.
I am not boring you with a list of scientific notes about what good exercise does for you ( if you need that list email me J)
But generally, we all aware that exercise will fall under time-out, self-care, mindfulness and stress reduction.
All requirements to not have a break-down.
The world has gone crazy enough without you going crazy.
If you want an individual Pilates workout to compliment your Ironmen/women inspirations I will do that for you and we will have loads of fun doing that, just contact me.
All my Pilates classes at the moment aiming to challenge your mind and body in a fun way.
Group classes are affordable with many different timeslots.
Yes, you will be sore, you will see change quickly and your brain will fire differently.
You will be energized for the day and discover muscles you didn't think you had.
All classes are done via Zoom live.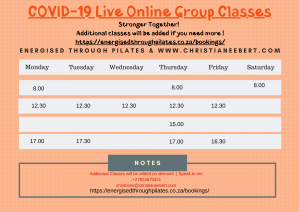 What is stopping you? Money? Time? No equipment? Little space?
Contact me I have an answer for all of the above.
Because my motto is we can always make a plan.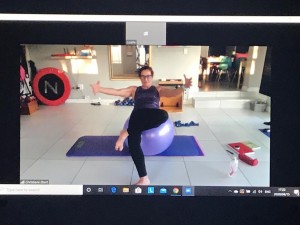 Also, look out for my new class offer:
" 1-hour Pilates/life coaching "
an ideal combination class if your mindset needs that little bit extra help to cope or give you that extra inspiration to change your
perception and reach your ultimate potential.
Coaching sessions are available for different budget and needs.
Email me christiane@christianeebert.com
Or what's app +27824670421