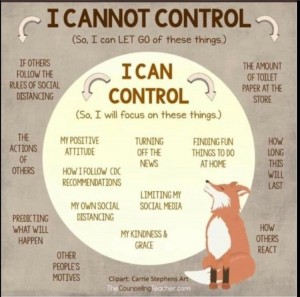 Thank goodness we have emotions.
Emotions are normal.
We are scared, I am scared, we all are scarred.
Why?
Because our life as we know it changed.
We are looking at an unprecedented situation for the whole world.
And then we are not allowed to go out.
That triggers in me already a few emotions, from existential fear to being trapped.
The big question is "Will I be safe ?"
Will I be safe financially, physically and emotionally?
Scary thoughts.
Anxiety creeps in and panic starts.
Take a deep breath. Deep breath in and out.
Our anxiety will not change the situation,
but
it will change the way we perceive the situation.
Anxiety, Panic and total Fear will not help you to move forward.
Remember, there is an after COVID-19, I promise there is an 'AFTER'.
We have to keep our mental state healthy to cope now and after the Virus.
Acknowledge your Fears and Anxiety.
Journal about them, meditate over them, talk to a friend or a professional about them,
get them out of your system.
This is important, don't bottle them up, face your fears to be stronger in the long run!
Don't create a timebomb, trust me, I can tell you that out of my own experience, this
'bottling -up' doesn't work it will make you more anxious and so the downward spiral starts.
Please contact me, if you need a coach to give you a safe space to listen and be there for you!
I have been where you are, and  my passion is to help you come out of this new Experience
safe and healthy.
Contact me via e-mail christiane@christianeebert.com or what's app +27824670421
I am offering this globally in English or German,
and my motto is 'we can always make a plan'
lots of love Christiane
http://www.christianeebert.com